Take Control of
Your Lung Health
Now anyone with Asthma or Cystic Fibrosis
can measure their lung health anytime, anywhere.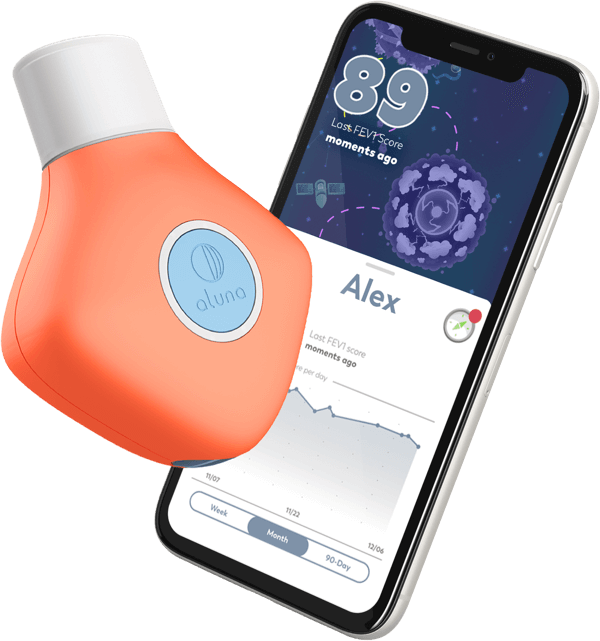 Our Partners
Aluna is an award-winning spirometer that gives you control and confidence in your lung health.
A spirometer is a device you blow in to which measures the function of your lungs.
See the Signs
Catch early signs of attacks and respiratory events
Stay in Control
Reduce unnecessary ER and Hospital visits
Manage Medicine
Know you're taking the right amount of medication

Aluna was perfectly built with a telemedicine platform that has been pivotal in supporting my patients. With Aluna, we can track symptoms, triggers, medications, lung function and composite scores to improve outcomes. Dr. Travis A. Miller, MD
The Allergy Station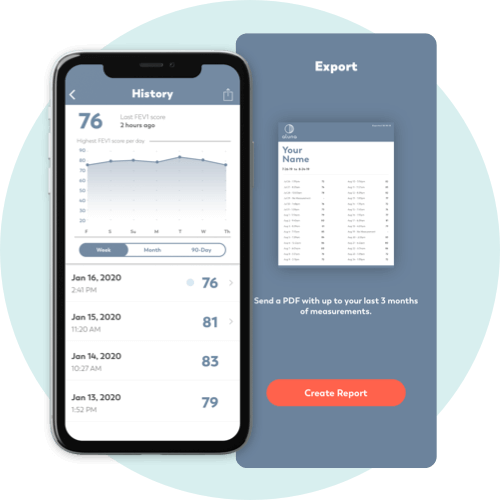 Data You Can Share
Aluna automatically tracks your FEV1% over time. You can also monitor your symptoms, medication, exercise, and environmental factors.
With the Aluna app, you can easily share your lung health data with your healthcare professional.
A Ritual You'll Enjoy
The app is filled with games, challenges, and rewards that make the daily management of your respiratory health something you'll look forward to.
How It Works
Trusted Accuracy
Aluna's digital spirometer has hospital-grade accuracy. It seamlessly connects to your phone via Bluetooth®, charges through USB, and is easy to clean thanks to the removable mouthpiece.
FDA-Cleared for Kids and Adults
Real People,
Real Results
"I have noticed that Aluna is able to alert me with the smallest changes in my lungs. Aluna shows a slight downward trend before I even pick up on it. I'll think I'm breathing fine and everything's good, and then I'll do a daily check on Aluna. It will give me a number and I'll know hmmm it's a little lower than normal. This gives me an opportunity to be alert and make changes earlier to keep my asthma in control."
"Aluna gives us insight into our daughter's lung health in ways we've never had before. It tracks her daily capacity and allows us to follow and recognize trends that we've been blind to in the past, showing us a clear correlation between capacity and illness or high allergen moments."
"My daughter is extremely active. Aluna helps us keep up her high activity level, or make modifications when necessary, by letting us track her numbers daily. We are able to share the data with our doctor, and that gives our doctor information to evaluate when deciding to cut down or eliminate medication."
Take Control with Aluna
Chronic lung conditions cause unwelcome disruptions in our day-to-day. Aluna's home-based spirometer was designed by people with asthma to help keep frustration and alarming surprises at bay.
Get Aluna